Understanding contracts: purchase price and payment
Published On

October 23, 2020

Category
In the purchase price and payment section of a contract, you can expect to find itemized fees like freight and air conditioning (if you are purchasing a new vehicle), administration (if the dealer charges one) and the OMVIC fee. This is also where you should see your old vehicle's value if you are trading it in. The terms below are meant to provide a general overview of car contract terminology – the corresponding prices are examples only. Note: not all terms listed here may be on your contract. Contracts vary depending on whether you're buying a used or new vehicle. 
Each term in the sample contract section is numbered so that it corresponds with the numbered definition below.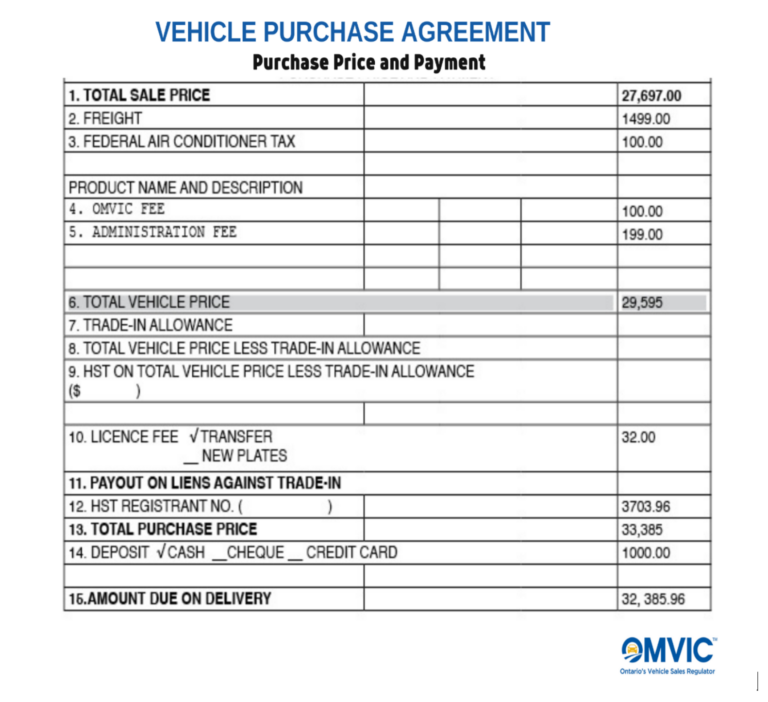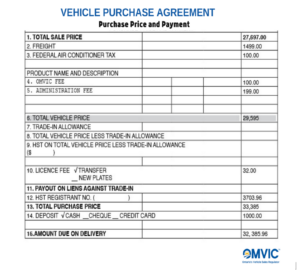 Total Sale Price:

the price of the basic vehicle (with manufacturer options if vehicle is new) It does NOT include freight, federal air Conditioner tax, a dealer's administration fee (if charged) or OMVIC Fee.

 Freight:

the cost to transport a new vehicle from the manufacturer to the car dealership.

Federal Air Conditioner Tax:

this is a $100 fee that the Federal Government applies to new vehicles with built-in air conditioning.

 OMVIC Fee:

 dealers must pay OMVIC $10 for each vehicle they sell or lease. While not all dealers pass the transaction fee on to their customers, many do.

 Administration Fee:

this is a charge that varies from dealer to dealer. This price includes the administrative work the dealer must do, like loan or lease processing with financial institutions (though some dealers charge an additional fee for assisting with financing),searching for liens on trade-ins, arranging licensing and obtaining vehicle history reports (some dealers charge an additional fee for this).

 Total Vehicle Price:

this is the Total Sale Price together with fees like freight, federal air conditioner tax, the OMVIC fee and the administration fee.

 Trade-In Allowance:

once you and the dealer have agreed on the value of your trade in it will be reflected on the contract as the trade-in allowance. This is the amount the dealer will reduce your new car's price after you trade in the old one.

 Total Vehicle Price Less Trade-In Allowance:

the price of your car after the dealer applies the trade-in allowance. This amount is calculated before tax, meaning there is a 13% taxable benefit on the trade-in amount. (e.g. if the total price was $25,000 and the trade-in allowance was $10,000, HST would only be paid on the difference, $15,000 (25,000-10,000) – a tax savings of $1,300).

 HST on Total Vehicle Price less Trade-in Allowance:

this 13% tax will be applied to the vehicle's adjusted price.

 Licence Fee:

this covers the cost of licence plates and registration with the Ministry of Transportation (MTO). The fee can vary based on whether you transfer a licence plate from one vehicle to another or place new plates on the vehicle. For more information about these charges, speak to the 

MTO

 or 

Service Ontario

.

 Payout on Liens Against Trade-In:

 if you trade in a vehicle and there is a balance owing on it, this line item states how much. It's a good idea to contact your current finance company to understand what remains owing on your current vehicle.

 HST Registrant Number:

this isn't a dollar amount: it's the HST number assigned to the dealer.

 Total Purchase Price:

the tally of Total Vehicle Price, Licence Fee, Fuel, and HST on total vehicle price less trade-in allowance.

 Deposit:

this is the money you pay to hold your purchase. It can either be applied as a down payment or returned once you take delivery of the vehicle.

 Amount Due on Delivery:

this is the amount of money owing to the dealer at delivery.

 
About OMVIC
To learn more about the protections afforded to you under the Motor Vehicle Dealers Act and resources when purchasing from an OMVIC-registered dealer, visit omvic.ca. For advice and answers to all your car buying questions, reach out to OMVIC's consumer support team at consumers@omvic.on.ca or 1-800-943-6002. Plus, explore their free education services and webinars by emailing education@omvic.on.ca. 
Stay connected and updated on all things OMVIC by following them on social media:
Instagram: @omvic_official
Twitter: @omvic_official
Facebook: Ontario Motor Vehicle Industry Council (OMVIC)